Testimonials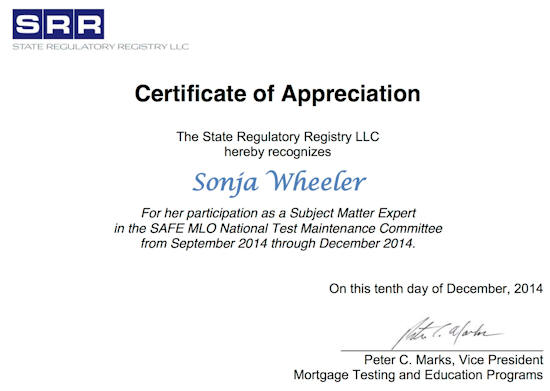 Dear Sonja,
As 2013 comes to a close, we'd like to thank you for your contribution to the NMLS testing program over the year. We realize that you put in a considerable amount of time and effort, and CSBS and SRR appreciate all that you've done. In recognition of that, attached is a Letter of Recognition from Pete Marks and myself.
So what was the result of your effort? This week we posted the updated National Test with Uniform State Content outline onto the NMLS Resource Center. As of January 18, 2014, the test will be incorporated with the CFPB mortgage rule changes. The committee did an excellent job incorporating those changes into the test. The SAFE MLO National Test continues to be taken at a large volume, which is the leading indicator for new state licensees in the system.
So far this year over 42,000 enrollments have been made for the national test. Your work helps to ensure these candidates are taking a valid and reliable test. So again, thank you.
Have a wonderful holiday season and a Happy New Year!
Matt Comber
Senior Manager, Test Development and Maintenance
Conference of State Bank Supervisors
---
December 18, 2013
Ms. Sonja Grant Wheeler
President
National Quality Assurance Div of SMC
Re: SAFE MLO National Test Maintenance Committee
Dear Ms. Wheeler,
This letter is in recognition of your participation in the 2013 National Test Maintenance Committee as a subject matter expert. The knowledge, expertise and experience you brought to this process was vital to the success of this important project. Your invaluable input helps to ensure that a fair, valid, and reliable test is maintained and administered by the NMLS, in accordance with the SAFE Act.
We understand that the time and energy you dedicated was certainly no small commitment and your assistance will undoubtedly strengthen the mortgage loan origination profession. The Conference of State Bank Supervisors and the State Regulatory Registry LLC highly value and appreciate your contributions.
Thank you, again, for all of your hard work. We look forward to continuing to work with you in the future.
Sincerely,
Peter C. Marks
Vice President, Mortgage Testing and Education
Conference of State Bank Supervisors and State Regulatory Registry LLC
Matthew J. Comber
Senior Manager, Test Development and Maintenance
Conference of State Bank Supervisors and State Regulatory Registry LLC
---